Despite being a book blogger and getting invited to a lot of cool events I've never been able to actually attend one with them all being based in London and more importantly me having anxiety and panic attacks over traveling alone. I've always said that if I could meet any three authors they would be J.K Rowling, John Green or Richelle Mead, heck meeting any admired author would be fantastic, but these guys would be a dream come true. So when my best friend and fellow Nerdfighter
Rachel
text me all of a quiver because John Green and his brother Hank were touring the UK and did I want to go? My excitement and the prospect of traveling with a trusted friend far outweighed the anxiety and so we got straight onto booking tickets praying we'd get through to a busy box office and we did! The tickets were booked, the time and place Cadogan Hall, London, February 3rd 2013, 12pm.
The day came around and on the train to London Rach gave me some amazing Nerdfighter birthday presents (it was my birthday the week before) a 'This Star Won't Go Out' bracelet, Nerdfighter Pin and Let it Snow the only John Green book I didn't own as well as paying for my ticket to the event, needless to say I was spoiled! As our luck would have it our train was delayed by 1 hour so we we're really worried we'd arrive late and wouldn't be allowed in. It was a proper Cinderella moment as we flanked a cab and rushed to the other side of London before the clock literally hit 12 o'clock we got there just in time and sat down with moments to spare before John came on stage.
Maureen, Hank and John on Stage
The event itself lasted about an hour or so and was a mixture of John talking about The Fault in Our Stars, Hank singing his wonderfully dorky songs, the brothers teasing each other, answering questions and goofing around like in their Youtube videos. There was also a guest appearance from the wonderful Maureen Johnson who happened to be in London and is an author friend of John's – as if this day wasn't perfect enough already! I pretty much stalk John so knew a lot of the answers to the questions he was asked and I found myself mouthing the answers along with him but it was so brilliant to see him talking in the flesh about his incredible book which I already read when it was released in the US last year and loved. Hank sounded amazing live and I had his songs in my head for days after particularly "Accio Deathly Hallows" which is one of my favourites. It was so funny to see John mouthing along to "The Anglerfish Song" in the background; he knew all of the words! Maureen was so much fun and I loved how all of them were just as quick, intelligent, brilliant and funny in real life as how they appear online.
Meeting John Green
The show ended with us all singing "The Proclaimers- 500 miles" which was an amazing experience. I don't think I'll ever be able to listen to that song again without being reminded of that day. I knew from following the Twitter feed from the Swindon event that waiting to meet them could take hours but Rachel and I were determined not to leave the building without meeting our heroes and I think we waited for about an hour and a half which wasn't all that bad. We passed the time talking with nerdfighters in the toilets and squeeing over what we'd just seen. Up until that point I was feeling pretty calm, I think because it felt familiar to me, it was kind of like watching another one of their vlogs but without the screen between us. When our row got called up and I edged closer to John and Hank and could hear them talking that's when it really hit me that they were there right in front of me and I was about to meet two people I greatly admire and that's when I started to get the sweaty palms, can't stop shaking, is this actually real life? Feelings of nervousness and anticipation.
Meeting John Green went as follows…
Me:
It's nice to meet you Sir (why did I call him Sir!? *headdesk*)
Him:
*Shakes hand* Hey thanks for coming along and waiting *noticing me wearing Esther bracelet* I like your Esther bracelet.
Me:
Thanks *nods at Rach* my friend got it me for my birthday.
Him:
Pretty awesome birthday present right?
Me:
Yeah.
Him:
*Hands books back signed* thank you.
Me:
Thanks it was nice to meet you. *Shuffles off*
I then went on to meet Hank who I didn't end up saying that much to which I regret because all that was buzzing through my head was I JUST MEET JOHN GREEN AND HE SHOOK MY HAND!!! I was also watching Rachel's reaction to meeting him. With Hank it went a little like this…
Waiting to Meet Hank
Me:
Can I get these Hanklerfished please?
Him:
Of course! *takes books*
Me:
Thank you it was great meeting you.
Him:
You too sweetheart, thanks for coming.
After that me and Rach moved off to the side and fawned over our books and compared our signatures and what our hanklerfishes looked like. Then on the way out I bought one of the tour t-shirts which I wanted to get before but the line was MAHOOSIVE there wasn't anybody there by the time we came out so I decided to snatch one up and also found some tattoos of Maureen Johnson which she randomly dispersed around the venue because she is awesome.
J-Scribble and Hanklerfish
We came out at half three and had enough time before our train to get some dinner in London and go to Foyles - a bookshop I've always wanted to visit. I was pretty sad that Maureen wasn't available to sign books so you can imagine my glee when I found a signed copy of The Name of the Star in Foyles which I happily purchased along with some other bookish goodies.
Maureen Tattoo and Signature
With achy feet, full tums, and happy hearts we caught our train home and the next day I woke up sad that today was just a normal day and every day couldn't be like yesterday, I couldn't hang out in one of my favourite cities with my best friend, oodles of Nerdfighters and our nerdy rockstars every day. Then later on I signed into Youtube and found videos of the day and new vlogs from John and Hank, and then I realised that the beauty of what John and Hank have created is that I *can* hang out with these awesome people who share the same interests as me and the same morals. Even with time and space between us the Vlogbrothers have created a safe and happy place for us nerds to talk and create and inspire one another to do awesome things and be true to ourselves and that was the beauty of it, of us, of them. I clicked on a video, and re-lived one of the best days of my life all over again.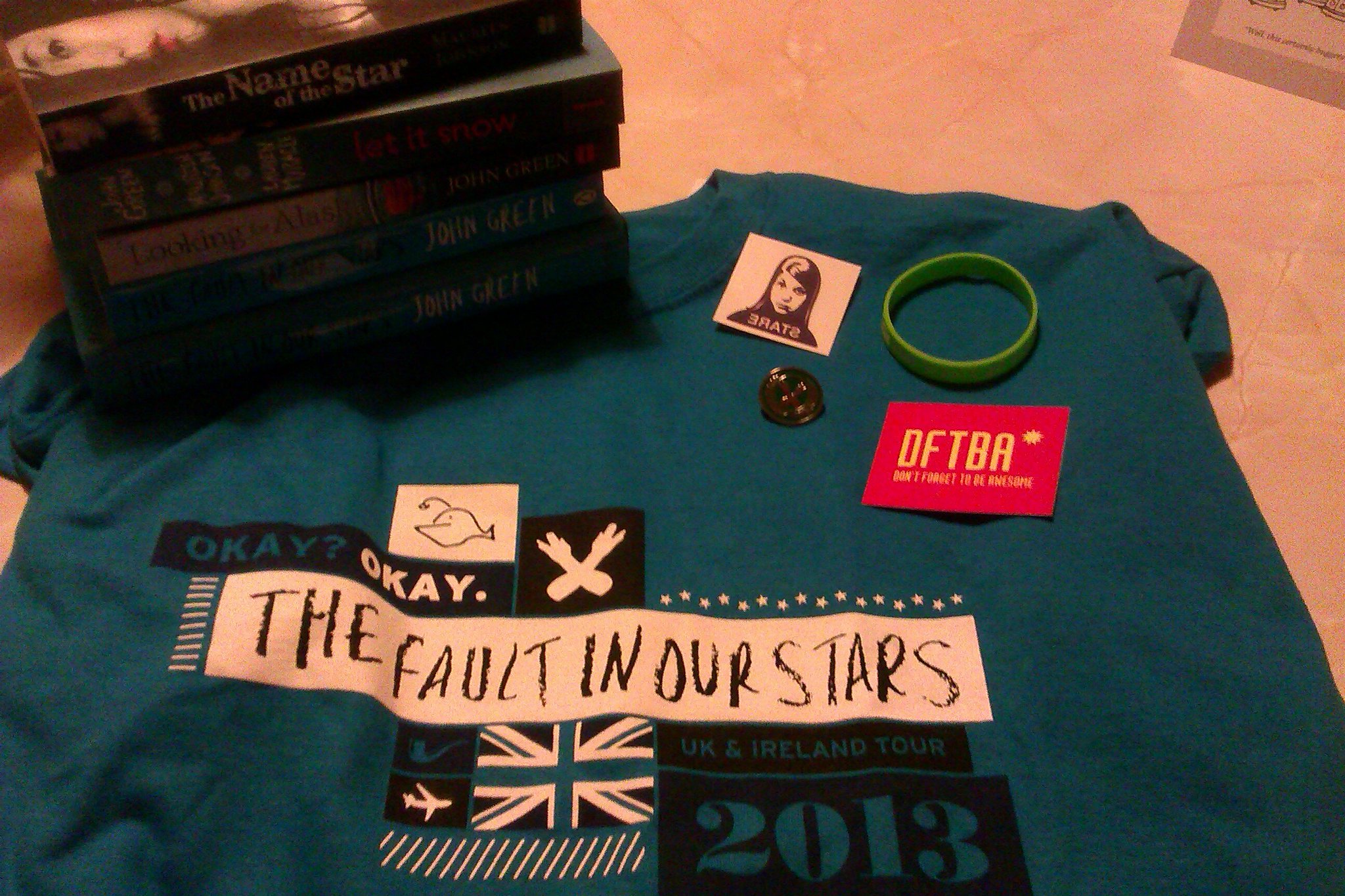 Goodies from the Day!