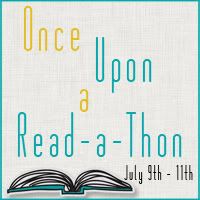 Once Upon a Read-a-Thon is hosted by Lori at
Pure Imagination
, Angela at
Reading Angel
and Candace at
Candace's Book Blog
and you can find out more about it by clicking on the image.
What I Read: Heist Society and Uncommon Criminals
Number of Pages Read: 478
Pages Read Total: 940
Books Read Total: 3
Reading Snacks
: This time I went for a "mood food" snack, I was reading Uncommon Criminals so I matched it up with some mini muffins seems as they're teen heists, smarties as all of the characters are incredibly witty and bright and a caffeine fix - hey! Even the *best* criminals need a pick me up now and then! - In my "I Solemnly Swear That I'm Up To No Good" Harry Potter mug. I think Fred and George would get along very nicely with these mischievous teens ;) AND it was yummy!
Non Reading Activity
: Day two was pretty much a solid day of reading, after reaching my 2 book target already I started to get competitive with myself and thought "okay how about now we aim for FOUR books, double the stakes." So I really pushed myself yesterday. I did have a break over lunch though and caught up with the latest episode of Once Upon a Time again totally fitting for the readathon but this time it wasn't intentional - I watch this show every week! And I also updated on Twitter and took part in a mini challenge before finally crashing for a few hours of sleep!
Thoughts
: The readathon is catching up with me now and today I'm feeling a little headachey, icky and tired PLUS I have a busy day ahead of me for day three. I can be quite self-competitive though and I'm determined to squeeze in one more book before it's all over or at least get a good chunk read, wish me luck! I feel like today I need that "you can do it!" boost!