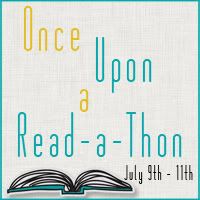 Once Upon a Read-a-Thon is hosted by Lori at
Pure Imagination
, Angela at
Reading Angel
and Candace at
Candace's Book Blog
and you can find out more about it by clicking on the image.
Wednesday's Updates
What I Read: Losing Lila by Sarah Alderson
Number of Pages Read: 343
Pages Read Total: 1283
Books Read Total: 4
Challenge: None
Reading Snacks: None, it was back to normal for me on Wednesday so no yummy snacks! :|
Non Reading Activity: Again no fun activities! When I wasn't busy I was cramming in as much reading time as possible on this last day.
Thoughts: Read, read and read!
That's a Wrap!
What I Read:
(In order) Hunting Lila, Heist Society, Uncommon Criminals and Losing Lila
Total Pages Read
: 1283
Challenges I Participated In:
The Cover Challenge
and
Bookish Fight
Favourite Book Read:
Probably Losing Lila it was so gripping!
Final Thoughts:
With this being my first readathon I wasn't sure what to expect, or how much I'd get read, so I was really happy to reach my overall goal of two books when I was only half way through the readathon and even happier when I upped my target to 4 books and finished my fourth book two hours before midnight on the final day! I'm so happy that I not only surpassed my goal but reached the new one I set myself as well. I've certainly been bitten by the readathon bug and have already signed up for another one in August! I had so much fun, probably more than I even thought I was going to, and I can't wait to do it all again with the
Summer Wrap Up Read-A-Thon
next month. But for now? It's over and out! *goes and lies down for a little nap*
I just wanted to take the chance to thank Lori, Angela and Candace for hosting this readathon and for all the bloggers who hosted the wonderful mini challenges, it's been a blast!